Far North
Regional Body – Far North Organic Growers Group Inc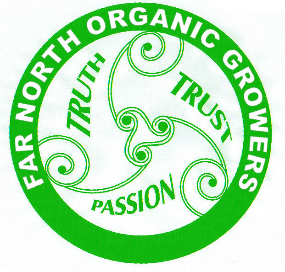 Far North Organic Growers Group (FNOG) was established in 1989 and has been providing certification since this date. The establishment of OFNZ was partly influenced by the success of FNOG.
FNOG is governed by the general membership and administrated by an elected Committee and has around 18 producers certified and/or coming into certification.
FNOG organizes three field-days a year, meetings, presents at A&P Shows and produces a newsletter called the "The Organics Networker."

The main purpose of FNOG is to:
Encourage members to grow and market organic produce and allied products, according to a set of Organic Standards;
To bring together all Far North organic growers for mutual benefit and self-help;
To assist members who are new to organic growing to become fully organic, according to a set of Organic Standards; and
To promote the benefit of organically grown food to members and the general public alike.
The Far North Organic Growers Group (FNOG) provides two organic certification systems:
OrganicFarmNZ certification to individual producers in the Far North – covering Whangarei in the south to Cape Reinga in the North; and
FNOG certification to individual producers – covering Kerikeri and all areas north. FNOG certification is for those strictly supplying local markets in the area.

Geography
FNOG provides OrganicFarmNZ certification to individual Producers & PODS (if required)  in the Far North – covering areas north of Whangarei as we now have Central North.

Fees
Pod: Applicable if required, none at present.
Individual: $250.00

Key People
Any enquiries regarding OrganicFarmNZ Far North should be made to the Certification Manager in the first instance.
The Certification Manager: Jose Van Alphen.  (09) 409 7530 or offgrid33@gmail.com
Chairperson: Rich Van Alphen. (09) 409 7530 or offgrid33@gmail.com
Vice Chairperson: Jan Arie Kamsteeg.  FFIT.Ltd@xtra.co.nz
Treasurer: Inge Bremer.  (09) 407 3598 or  contact@oraoraretreat.co.nz
Secretary: Krissie Khaine. (09) 408 4212 or krisnterry@wnation.net.nz
Networker Publisher:  Jose Van Alphen.  (09) 409 7530 or offgrid33@gmail.com
Committee members:  Terry Higginson, Carol Symlie, Gjis Veling, Alan Rockwell
Auditors:  Terry Higginson, Jan Arie Kamsteeg, Rich Van Alphen
Certification Committee:  Terry Higginson, Jan Arie Kamsteeg, Rich Van Alphen, Krissie Khaine, Jose Van Alphen