Grower Profiles
The following are profiles of OrganicFarmNZ Growers from around the country.
Kelmarna Organic City Farm – Herne Bay, Auckland
A city greenspace working as an educational model of sustainable horticulture.
25 years ago the garden site was established by Paul Lagerstedt to demonstrate the growing of organic produce and to restore recreation and employment opportunities to central Auckland city. The gardens were established on 1.7 hectares of land owned by the City Council and by the neighbouring Catholic Church.
The Kelmarna Trust leases the site off the council and sub-leases the gardens to Framework Trust. The Framework Trust utilizes the therapeutic green environment to provide a work-skills program for people who are regaining mental balance and are motivated toward gaining employment.
During the last quarter century a rich array of native and heirloom biodiversity has been quietly growing into a living example of sound ecology and responsible local food production for local consumption.
While the maintaining of rare heritage fruit and vegetable varieties is arguably the most valuable service that Kelmarna Gardens provides, the greatest inherent potential must be the sites enormous capacity as an educational resource.Situated adjacent to the many urban dwellers of Ponsonby and Grey Lynn and including the many schools in the area, the potential to provide educational and recreational gardening is huge.
As local and community supported food production becomes reestablished, it is envisaged that Kelmarna Gardens will become a rallying point of inspiration and community cohesion based around the practice of permaculture.
The Gardens are fully certified OFNZ.
---
Tony & Linda Henderson – Kaikohe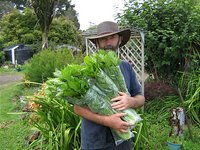 Tony & Linda run Zion Gardens. A 20.5ha property situated 20kms west of Kaikohe in the Far North. They joined OrganicFarmNZ in its inception year of 2002 and have been fully certified since that time – having previously been certified by the Far North Growers Group.
They sell their wide range of vegetables, herbs, seedlings, hen, duck & turkey eggs through a local 'box scheme', direct from the farm gate, with excess been sent to wholesaler Ceres in Auckland. They also produce a number of weaner red devon beef calves each year for local sale – which doubles as a hobby for them.
When asked why they went organic and for certification – they responded: "We believe that there is too much reliance on chemicals these days and that chemicals are responsible for the many cancers and sickness in the world.  We wish to keep our own bodies as healthy as possible and look after the land that has been entrusted into our care in a totally sustainable way.  Being certified organic is the best way to ensure that others can buy our produce with complete confidence that is totally natural."
They choose OrganicFarmNZ certification because they wanted to step up to a national scheme (from their regional scheme where they were previously fully certified) so that their produce would be accepted without question anywhere in NZ.
Tony & Linda had a number of words of advice for intending growers:
Do your homework on the marketing of the produce you wish to grow to see if it is feasible.
Don't grow what others in your area are growing (or work in with them so as to avoid oversupply).
Research where you can sell your produce.
Just because your produce is organic, that is no guarantee that it will sell.
Test your soil so you know what is needed for any corrections to avoid disappointment.
Know your climate, talk to locals about the weather and what grows well in your area.
Don't overstretch yourself trying to grow everything.
Select several things that you know you can grow and expand on that later after you can grow them consistently and at high quality.
Organic produce should look as good as or better than its conventionally grown counterpart.
As for certification:  stick to what is written in the standards; it is attainable and too many growers go off on their own tangent looking for loopholes and find themselves in a pickle with the certification committee!
---
Rob Downing & Pamela Baker – Bay of Islands
Rob & Pamela chose organic production to play their part in caring for the land and respecting the need for sustainable farming. They see certification as the consumers only guarantee that the produce being sold is safe for eating. It doesn't contain pesticides, herbicides, fungicides and follows the sustainable farming criteria.
OrganicFarmNZ certification fits nicely with their emphasis on selling their wide range of vegetables locally. Rob & Pamela are the driving force behind the impressive Kerikeri Farmers' Market. The Market, selected Kerikeri cafes, home deliveries and a health food shop in Whangarei are the outlets for their fully certified produce.
Mahinga Oranga or the "Garden of Wellbeing" is the 2.1 hectare organic paradise that has been certified with OFNZ since 2003 – and previously with FNOG certification.
Rob & Pamela see being an active member of the OFNZ regional body as very beneficial. "The support of local like-minded growers helps us better understand ways of improving our techniques, understanding the local soil and climatic conditions. Organised fieldays and social events all help improve our understanding and helps reduce unnecessary mistakes."
When time permits, Rob likes to surf, practice martial arts and be involved with local projects – which include the Waimate North Landcare group, Vision Kerikeri and the Kerikeri Farmers' Market.
Rob & Pamela believe it is difficult for anyone individual to 'change the world' but they can make a real difference by taking the first steps towards sustainable land care through organic production on their own property and act as a positive, and real, example to others.
---
Rich & Jose Van Alphen – Far North
NatureZone Gardens is the name of the 4.5 hectare property of Rich & Jose at Houhora in the Far North. It has been certified by OrganicFarmNZ since 2002 and previously with FNOG.
Products covered by certification include: cherimoya, avocado, lemongrass, garlic, bananas, and a mix of salad vegetables.
Rich & Jose sell their produce mainly through the KeriKeri Farmer's Market, some to wholesalers and some direct to customers.
They chose OrganicFarmNZ certification as they wanted to be able to sell nationally with credibility. For them, OFNZ certification works well, costs are kept to a minimum for small scale operators.
Their words of advice for new growers – "Believe in what you're doing."
---
Steve & Carol Ring, White Rose Organics – Gisborne

Steve and Carol Ring own White Rose Organics, which is situated some 15km NW of Gisborne. They have been with OFNZ since 2006; fully certified since 2008.
There are two properties with a total size of 140 acres that Steve and Carol have owned since moving from England in 2002.
Since taking over the farm the Rings have built up a herd of Dexters (a rare breed of cattle), a flock of rare breed chooks and an orchard that contains numerous heritage apple trees. The eggs, beef and fruit that are produced are sold at the local Farmers Market, with poultry and cattle also sometimes available. Interestingly White Rose Organics is, at the moment, the only certified organic egg producer in Gisborne.
The Rings use seaweed fertilizers along with bio-dynamic preparations. Since owning the properties the Rings have noticed a change to the soil, an increase in the amount of worms and also in the amount of grass varieties. All of these allow the property to stay greener longer during the droughts and come back quicker once the rains return.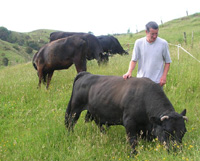 Although animal health issues are few and far between, cider vinegar is used as a drench along with homeopathic remedies if required.
A future project is to create a forest garden, which will be another step toward becoming self-sustaining.
Both Steve and Carol are on the committee of Tairawhiti Organics, a local group formed to help people who wish to move into organics.
Advice for people wishing to go into organics:
– Don't try to reinvent the wheel, research and talk to those who have already gone through the process for advice.
See web site www.whiteroseorganics.co.nz